Employee Picks: MOVIES

These zines are the "employee picks" section of a video store, in zine form. Two movie freaks, Jane and Molly, have picked out some choice (yet lesser known) flicks for you to enjoy, based off their own individual tastes. Bonus: Jane's zine contains recommended treat and beverage pairings for each film, and Molly's includes recommended skincare product pairings! Treat yourself right and order this zine today.

pages: 16
dimensions: 5.5" x 8.5"
published: August 2023



The Oakland Museum of Nail Art
Two Oakland nail artists, Laurel Maha (
@pizzaperfectnails
) and Masako Beck (
@atomicowl
), cover Molly's tiny fingernails with tributes to famous artists and artworks. For anyone who loves staring at miniatures, going to MoMA, or wondering if gel treatments can damage their nails (they can't).
pages: 16
dimensions: 4" x 5"
published: August 2023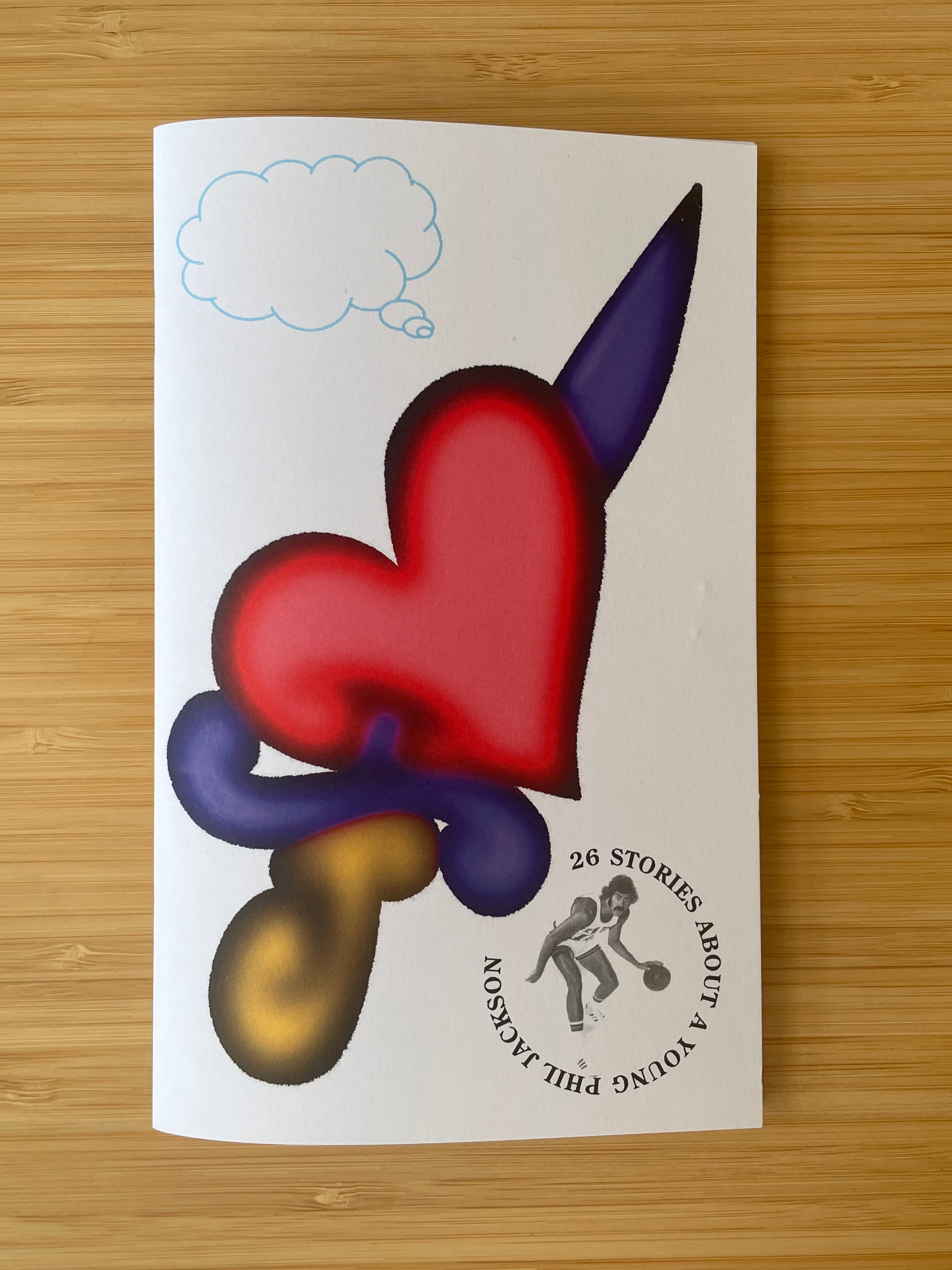 26 Stories About a Young Phil Jackson
is an innovative, filthy short story collection and audiobook with memories of an NBA semi-legend during the '60s, '70s and '80s. Ex-lovers, teammates, rivals and a plumber recount how Jackson stole their ideas and broke their hearts for personal gain. Recommended for basketball fans and haters alike: Anyone haunted by the ghost of a toxic charmer will find something to enjoy.
26 Stories…
is written by Molly Rosen Marriner, illustrated by Ivan Kazukov, designed by Zhdan Philippov, edited by Jane Justice Leibrock (text) and Chris Mosson (audio), and voice over'd by a fleet of 26 actors: the book is envisioned so that each page has a QR code to enjoy a recorded reading of each story.
pages: 40
dimensions: 4.25" x 6.87"
published: March 2023
Order options:
- Standard Phil — Just the book
- Eleven Rings Edition — Limited, deluxe edition which comes with a Kazukov sticker pack so you can vandalize photos of the Phils in your own life
- Molly's Body — Molly's body of work about…her body, neatly wrapped up in a
Live Through This
-inspired bow. Includes everything in the Eleven Rings Edition, PLUS
Memories of Fat Camp
, a zine which explores what two summers at weight loss camp, binge diet and exercise, and late '90s culture did (and continue to do) to Molly, featuring loving participation and interviews from her parents, sister, and childhood BFF
You can also listen to all the stories on Apple Podcasts
here.
You're a dude. You see a ton of boobs in your Instagram feeds. What's your culpability level?
Molly Rosen Marriner explores her male pals' Instagram feeds like Werner Herzog slashing through a meme-and-bra-ad rainforest in this new project. Through a series of screenshots, interviews, and sloppy yet thoughtful postulating, they arrive at some surprising and time-old conclusions about the nature of the internet and men.
Comes in four colors—"let us choose for you."
pages: 20
dimensions: 4" x 5"
published: March 2023